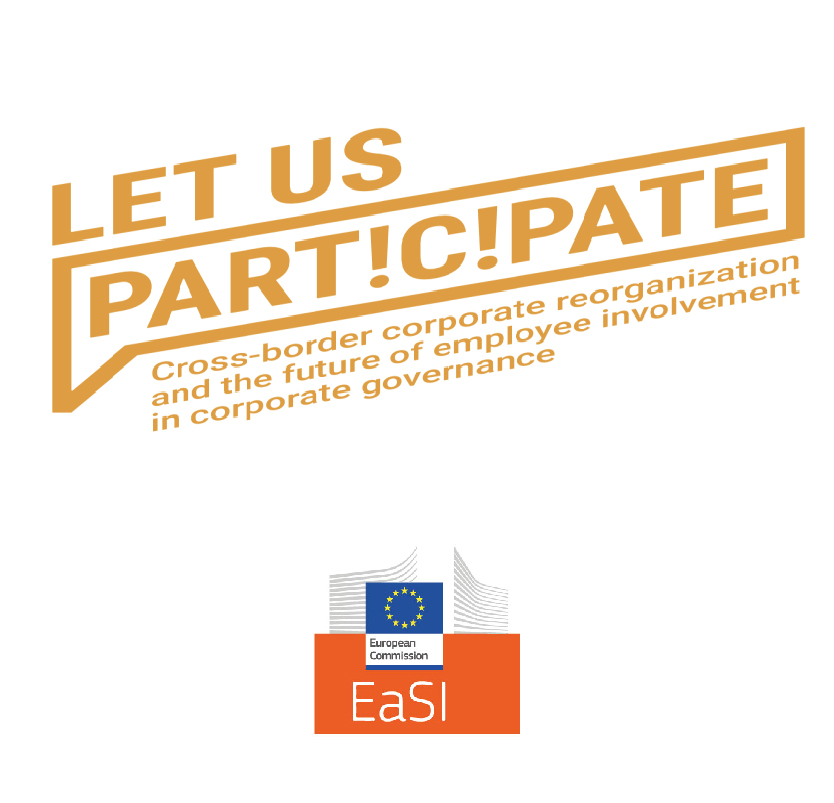 PROJECT: LET US PARTICIPATE!
"CROSS-BORDER CORPORATE REORGANIZATION AND THE FUTURE OF EMPLOYEE INVOLVEMENT IN CORPORATE GOVERNANCE"
Ref. Nº: VS/2020/0033
Program: European Program for Employment and Social Innovation- EASI.
Key Action: PROGRESS – Employment
Action Type: Promotion of labor relations and social dialogue
Implementing period: 2020-2022
Leader: Confederazione Generale dei Sindacati Autonomi dei Lavoratori– CONFSAL (Italy) www.confsal.it
Partners: The project involves seven entities from member states and candidate countries: trade unions, employers' organisations and social actors from the labour and education field.
Business Confederation of Macedonia – BCM (Republic of North Macedonia)
Federacja Zwiazków Zawodowych Metalowców i Hutników w Polsce – FZZMiH (Poland)
Forum for International Cooperation – FIC (Denmark)
Institute of Public Affairs – IPA (Poland)
Confederación Sindical Independiente – FETICO (Spain)
Project objective: the key objectives of this project are:
To increase employee involvement in the European social dialogue by better understanding the transnational reorganisation of undertakings, board level participation and European Works Councils instruments in the EU
To strengthen capacity building, transnational cooperation and joint action plan to reinforce the involvement of workers in corporate governance.
Results of the Project:
Research Studies carried out at national level to collect information (legal regulations, practices, and social partners' views) on three focal topics:

Cross-border corporate reorganisation of undertakings in the context of social dialogue.
Board-level employee participation as a mechanism of workers participation in corporate governance.
European Works Councils (EWCs) as permanent bodies that facilitate information and consultation of employees in transnational companies.

Three workshops have been conducted: (1) Capacity building focusing on the cross-border corporate reorganisation of undertakings (2) Strategic Workshop exploring the issue of board-level participation and (3) Strategic Workshop on the issue of European Works Councils.
An Action plan has been designed by the social partners involved that includes concrete measures to improve workers' rights to information, consultation and participation in the context of transnational corporate re-organisation and responses to the challenges posed to workers' involvement in corporate governance.
More information about the project:www.letusparticipate.com